Passover With Jesus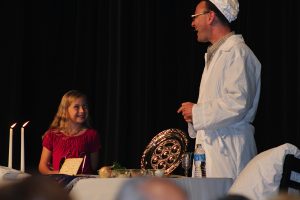 A presentation you don't want your church to pass over
– Get an authentic insight on what it was like to celebrate Passover with Jesus in the Upper Room.
– Discover how each item on the Passover table foreshadows the life, death and resurrection of Jesus
– Understand the original Jewish roots of Communion
– Invite new people from your community to your church and to a personal relationship with Jesus
– Presented by Ze'ev Nevo, a Jewish believer from Jerusalem and a son of a Holocaust survivor. Ze'ev is the founder of Israel Media Ministries.
For more information or to schedule a "Passover with Jesus" event at your church, please fill out the short form below.
Biblical Teachings
We all read about Israel in the Bible, we hear about Israel in the News and some of us even lift Israel in prayer daily. But have you ever met Israel?
We at "Israel Media Ministries" see it as an important part of our vision to visit churches around the world and share about Israel. Our heart's desire is to open the Word and let the scriptures shine their truth about God's plan for Israel and the unique role that the church has in bringing the gospel back to the Jewish people.
Most of our church meetings are done by Ze'ev Nevo, the founder and president of "Israel Media Ministries." Ze'ev, a son of a holocaust survivor, was born and raised in Jerusalem. With his personal testimony of coming to faith in Jesus as a young Jewish man and his vast experience in the communication field and evangelistic ministry in Israel, Ze'ev brings with him an authentic perspective and understanding about Israel.
From the first time the name Israel is mentioned in the Bible, through the feasts of Israel and their prophetic connection to the Messiah of Israel, from an inside update on Jewish evangelism in Israel today until the end times – we will count it a blessing to introduce Israel to you.
If you would like to invite Israel to your church, please fill out the form below. To view the list of our programs, simply click on the small arrow to the right of the "Select a Program" field. We will be honored to contact you and to schedule a meeting with Israel at your church. See you soon!